About OUR COMPANY
Who We Are
Inventronics, Inc. manufactures the Sanderson Accu-Tuner, Accu-Fork and Beat-Rater. Founder Al Sanderson also invented the original Sight-O-Tuners which we are now able to upgrade with modern replacement electronics. Accu-Tuners have been in use for over thirty years and have continually proven to be the most reliable and efficient tuning instruments available. The latest Accu-Tuner IV will continue to include new features based on suggestions from owners. FREE catalog and Toll Free Support for over thirty years.
Short History
Inventronics was originally started in 1972 as a consulting company to create electronics solutions to problems brought by customers. A project that Dr. Sanderson was working on in the early seventies which blossomed into the full energy of Inventronics was the creation, production and support of the Accu-Tuner line of products. The company started production of the Accu-Tuner in the basement in 1981, the team was Albert Sanderson, Henry Szmyt and Paul Sanderson. After a couple of years the company moved out of the basement to a mill building in Lowell, then 17 years in Chelmsford, and since 2005 been located in Tyngsboro, MA.
In the thirty years since, just over six thousand Accu-Tuners have been produced, but the same family values have carried through. Over the thirtyfive-year period other tuning instruments have come and gone, and some pretty libelous comparisons have been made. Inventronics has worked hard over the years to stick to our values not to compare or denigrate the competition.
Al Sanderson's Tuning Instruments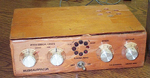 Musicalibrator, 1970
The Sight-O-Tuner (SOT) was manufactured by Tuners Supply Company, the design was owned by Tuners Supply under contract from Inventronics. Some technicians have the false impression that Inventronics manufactured the SOT, the design was created by Al Sanderson, but never manufactured by Inventronics.
In 2012 we tackled the issue of repairing (upgrading) Sight-O-Tuners after the last SOT repairman passed away. because many of the original components are no longer available, we created a modern upgrade using similar circuitry as our Accu-Tuner models. Included in the upgrade is the ability for the Sight-O-Tunerto automatically set the cents internally for the measured stretch number.
Musicalibrator, 1970
Original Square Black Sight-O-Tuner, 1972

Redesigned Blue Sight-O-Tuner, 1973

Original Sanderson Accu-Tuner, 1981

Accu-Tuner II, 1987
Accu-Tuner III, 1997
Accu-Tuner IV, 2008